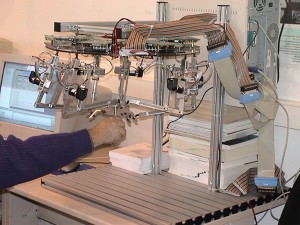 Magister-P is an open architecture haptic device with 6 d.o.f. force feedback. Magister-P is based on a modification of a 6-6 Gough platform. The device has been tested on our laboratory for manipulating a real slave robot (a Mitsubishi PA-10) and as a haptic device for a surgical simulator.
The main characteristic is the open architecture that allows the Magister-P to be configured as an impedance or admittance display.
link to the former website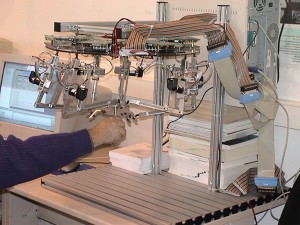 El dispositivo Magister-P es un maestro haptico de 6 grados de libertad basado en una modificación de la plataforma Gough. Este dispositivo ha sido comprobado en nuestro laboratorio conectándolo a un robot esclavo real (Mitsubishi PA-10) y a un simulador quirúrgico con capacidades dinámicas.
La principal característica de este dispositivo es su arquitectura abierta (basada en una tarjeta multiejes dSpace DS1103) que le permite programarse como un dispositivo de admitancias o de impedancias.